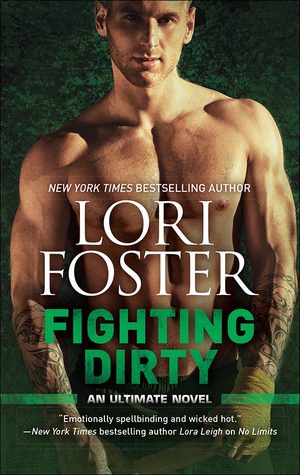 He's the hottest MMA fighter in the game, but one woman is ready to try out a few steamy moves of her own in an unforgettable new novel from New York Times bestselling author Lori Foster...
With the life he's led and the muscles he's gained, Armie Jacobson isn't afraid of anything. Except maybe Merissa Colter's effect on him. It's not just that she's his best friend's little sister. Fact is, she deserves better. Women pursue him for one night of pleasure, and that's all he wants to offer. Until rescuing Merissa from a robbery leads to the most erotic encounter of his life.
Good girl meets bad boy. It's a story that rarely ends well. But Merissa is taking matters into her own hands. No matter how he views himself, the Armie she knows is brave, honorable and completely loyal. And as past demons and present-day danger collide, they're both about to learn what's truly worth fighting for…
Hotness Rating 3 out of 5
Fighting Dirty is the 4th and final book of the Ultimate series by Lori Foster. But, have no fear we are getting a much anticipated (by me) spin-off that I'm not so patiently waiting for. Back to Fighting Dirty. I think Armie's story is the story I've been wanting to read the most this whole time. He was so outrageous throughout the other books I just did not know what to expect of this book, but I had high expectations. While it did not absolutely blow me away (I think this is because of my super high expectations) I liked it a lot!
Armie Jacobson is a mega talented up and coming MMA star who really isn't all that excited about his path. He has always been content to do low profile fights that fed his need for the sport, but kept him out of the limelight for the most part. A big part of this is because of a traumatic event in his past that he did not want to resurface. This event has really shaped so much of his life. It's kept him from furthering his career to the heights that it definitely could rise and it's kept him from pursuing his attraction to Rissy. If being the little sister of his best friend didn't make her off limits protecting her from his past did.
The world of MMA fighting and alpha males has been a part of Merissa Colter's world for as long as she can remember. While she loves all of the guys that fight alongside her brother, both in and out of the ring, only one has her heart. She has always loved Armie despite or maybe because of his wild and outrageous ways, but he has never showed any interest in her. That is until that one amazing kiss that rocked her world and left her aching for so much more.
I loved Rissy and all of her strength. Bad things were happening at an alarming rate, yet she kept her head and did all of the right things. I hate it when a character puts themselves in the direct path of danger just to prove that she's a strong, independent woman. Rissy was not this girl. She stayed strong and independent, but she knew when to defer to a safer path. And if that path just happened to throw her and Armie together all the better. And when Armie stopped fighting his attraction he was all in with exploring things. He pretty much knew that his chances of resisting Rissy were nil so he gave in in a huge way. His outrageousness was a bit tamer than I expected, but all-in-all it stayed close enough to what I expected of him.
Although, I'm sad to see this series end I'm very excited for what's to come with the spin-off.
Thank you to NetGalley for the loan of this book in exchange for my honest review.
A 4 Star Review for me
Get Your Copy Today