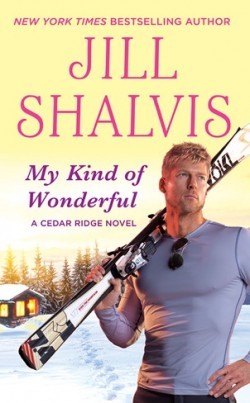 UNEXPECTED AND UNDENIABLE...
Bailey Moore has an agenda: skiing in the Rockies, exploring castles in Europe, ballroom dancing in Argentina. Now that she has a second lease on life, she's determined not to miss a thing. What she doesn't realize is that item #1 comes with a six-foot-one ski god hot enough to melt a polar ice cap. She doesn't want to miss out on him either, but Hudson Kincaid isn't the type of guy to love and let go. And as gorgeous as Cedar Ridge is, she's not planning to stick around.
As head of ski patrol at his family's resort, Hud thinks he's seen it all. But never has he run into someone like Bailey. She might look delicate, but her attitude is all firecracker. And her infectious joy touches something deep within him that he's been missing far too long. Now he'll just have to convince Bailey to take a chance on her biggest adventure yet . . . something rare and all kinds of wonderful.
Hotness Rating: 3 out of 5
My Kind of Wonderful is the second book of the Cedar Ridge series by Jill Shalvis. Now, I am a huge fan of Jill Shalvis so when the first book of this series was just okay for me I knew I would be giving the next book a chance. I am so glad I did. I loved My Kind of Wonderful. I just couldn't read it fast enough and then when it was over I felt more than a little bereft.
Bailey Moore was a character that you can't help but love. She had strength and bravery in spades, but she never came accross hard or cynical about life. As a matter of fact, she was the opposite. She was soft and sweet even when she was digging her heals in.
Hudson Kincaid has the weight of the world on his shoulders. Pretty much everything that is tough in his life he either blames himself for or steps up to take care of it preventing anyone else (as much as he can) from being touched by it. I couldn't help but be drawn in by his character and absolute dedication to his family. Throw in a little cocky and all kinds of sexy and you just about have the perfect guy.
I loved Bailey and Hudson together and enjoyed immensely their leap from fling to permanence. Stubbornness was the very definition of both of these characters, so this trip was not smooth let me tell you. But, it was fun to read.
A 4 Star Review for me